Office workers situated in large commercial workspaces are required to utilise the office equipment and furniture their employer has provided, regardless of whether it's fit for purpose. However, the coronavirus has resulted in a substantial increase in homeworking and the uptake of flexible working arrangements.
This new way of working from home (WFH) has opened up a realm of opportunities when it comes to choosing the right office furniture for you. In fact, there are now specific ergonomic products, designed to help reduce musculoskeletal pain and offer additional lumbar support as well as height-adjustable options, which can support workers whilst sitting or standing up. 
The possibilities really are endless. So, we want to take you through some key points to consider when choosing home office furniture that will hopefully make the decision process a lot easier.
Choosing an office desk
When looking for a modern, stylish home office desk there are a few key things to consider and our expert advice will assist you in making a more informed decision. 
Desk size 
It goes without saying that the size of the desk required will be predetermined by the available space and layout of the room.
At Robert Bunn Office Furniture, we always recommend purchasing a desk that will fit comfortably in your room, as this will help to maximise the functional workspace available.
Small space?
If you're working from a small home office or have limited space, there are still some great options available via our  online store:
Corner desks are a fantastic space saver, offering you room to move around the office whilst still having plenty of space to work. 


Electric height adjustable desks change from a sitting height to a standing one with a single click and are reported to help productivity, and concentration and improve overall health.


Shelf desks, which fold down from a wall, provide a work surface when you need it and more space when you don't.
Top tip - It's always best to gather the measurements of the room along with the measurements of the desk and chair you plan to sit on and map out the space accordingly - if you need help choosing the right desk for your workspace, don't hesitate to book a free consultation with our office design experts.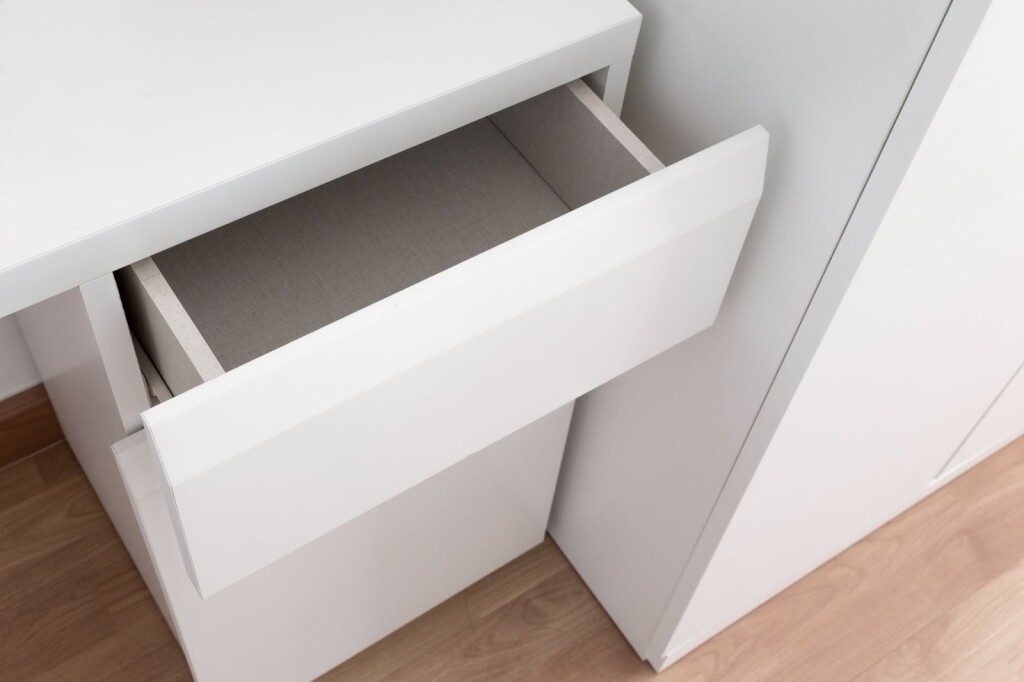 Desk storage
If you're refitting a smaller workspace, there are also several great options available for desks, with built-in draws. These can be a real space saver and give you the extra storage needed to ensure your desk remains clear and tidy.
Ensuring a healthy posture 
Working from home will require you to spend several hours a day sitting behind your desk, which makes it vital that you are sitting comfortably and correctly. 
Is there a solution?
Our ergonomic height adjustable desks help reduce sedentary behaviour and support health even outside the workplace. In fact, studies suggest that people who work from a height-adjustable desk reported a significant reduction in the upper back, shoulder or neck discomfort as well as increased productivity and improvements outside of work.
However, if a standing desk is not suitable for your home office space, you could invest in our ergonomic products to make yourself feel more comfortable:
Monitor arms let you adjust your computer screen to your ideal height and angle so that you can naturally adopt a healthier posture.


Ergonomic mats, with wrist support, can help prevent wrist ache, soreness and carpal tunnel syndrome.


A laptop stand can also help you avoid back and wrist strain, caused by leaning into your screen too excessively.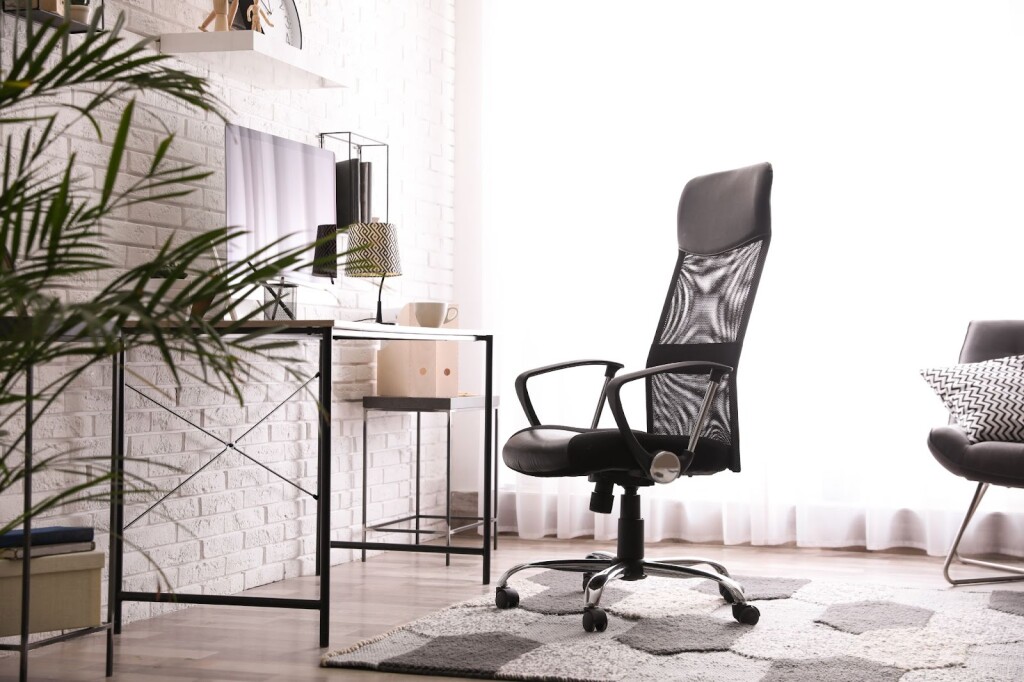 Choosing a home office chair
Similarly to choosing a new desk, there are several important factors to consider when choosing a home office chair and some key questions you might want to have answered before you begin your search.
Firstly, do you want an office chair with fixed arms, no arms or removable arms? If you do decide on a chair with arms, it is advised that your armrests are positioned just under your elbows when your hands are in your lap.
Have you considered a chair with adjustable backrests or headrests?
Adjustable backrests tilt, lean and recline in a range of positions to ensure your lower back is supported at all times. 
Reclining office chairs are specifically designed with good lumbar support and can offer reprieve to all of your body, including taking pressure off the base of the spine.
Seat depth adjustment is another great feature to consider. Getting the right seat height and depth will ensure your hips and lower back remain in a healthy position. If done correctly, the adjustment of your chair's depth will enable you to access support from the backrest without cutting off circulation at your knees.
However, if you're looking for something completely custom built to suit your height and weight - take a look at our bespoke, made-to-measure office chairs.

Types of chairs
There are many different types of chairs suitable for a home office, including:
Mesh office chairs
A standard office chair features a cushioned back to support the user. Whereas, whereas mesh chairs feature stretched mesh.
Which is better?
Customers tend to gravitate towards the mesh material because it moulds to their specific body type, therefore providing greater support. However, the choice is yours.
Kneeling chairs
Kneeling chairs ensure the user sits in a position with their thighs dropped to an angle of 60° to 70° from vertical, as opposed to 90° in a standard office chair. This positioning helps to promote good posture by distributing the body's weight more evenly.
Executive office chairs
An executive office chair is a premium type of office chair that is high-backed and designed to support the entire upper body. Commanding power with a tall, elegant back, sturdy arms and premium upholstery (traditionally black leather), an executive office chair is perfectly suited to "the boss" or company director.
Task operator chairs
When it comes to task operator chairs, there is a huge range of fantastic ergonomic options that allow you to customise a chair to your desired specifications. 
Robust, reliable and adjustable, our operator chairs are available in an array of upholstery finishes and make great additions to home offices.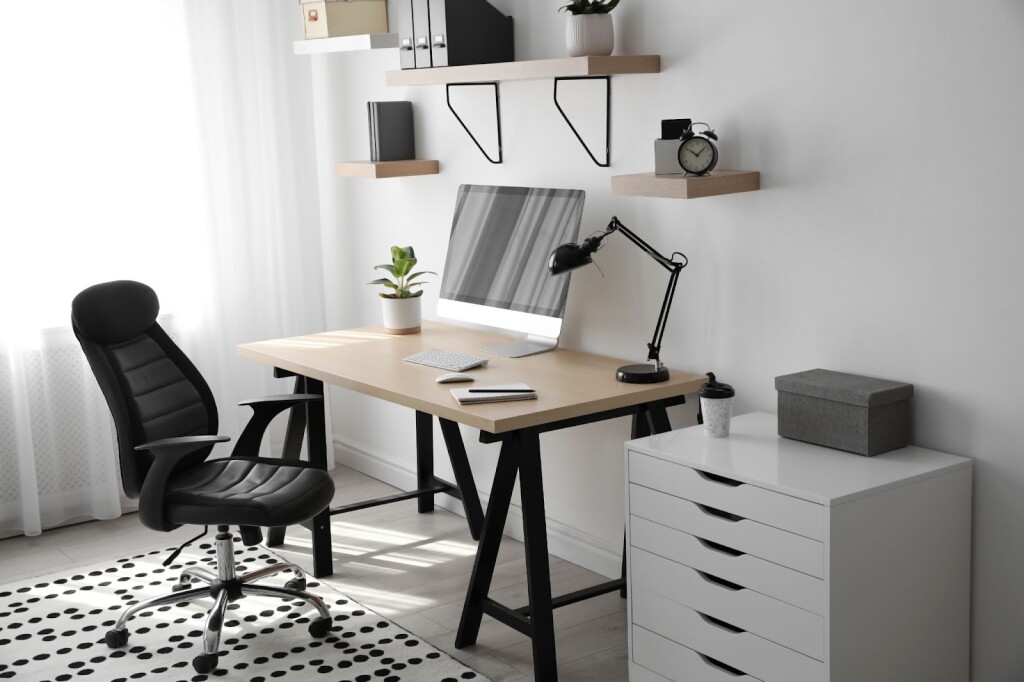 With so many home office chairs and desks on the market, it can be difficult to make the right decision for your workspace.
That's where we come in!
Our team of space planning experts are capable of refitting any workspace - small or large. Just visit our website to order online or give us a call on 01278 760364 for more information.